100 x 2g ARTICHOKE Tea Bags for Liver Diabetics BEST PRICE – Atiso – Danh trà
$ (as of June 5, 2018, 4:54 pm)30.00 (as of June 5, 2018, 4:54 pm)
100 ARTICHOKE Tea Bags
A speciality of Vietnam, Artichoke Tea is made from 100% globe artichoke flowers, stems & leaves and is quite and ethically produced & traded. The tea is caffeine-free and has the most wonderful mellow smoky flavour.
The artichoke is among the world's oldest medicinal plants. The ancient Egyptians placed great value on the plant.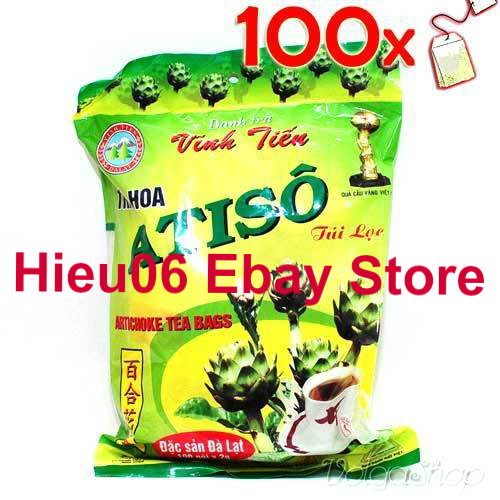 The ancient Greeks and Romans used it as a digestive aid. It was favoured by royalty in the 16th century. Cynarin, the active ingredient in Ladophar Artichoke Tea, is regarded as to have considerable health benefits and is believed to:
protect the live against toxins and infections
lower blood cholesterol by lowering synthesis of cholesterol in the liver
act as a diuretic
act as a liver tonic
lower blood sugar levels
stimulate the regeneration of liver cells
can reduce nausea, abdominal pain, constipation and flatulence caused by indigestion
ease symptoms of Irritable Bowel Syndrome through bile regulation
help care for a healthy digestive system
be a popular herbal treatment which helps care for bowel health
play an essential role in fat and alcohol metabolism (according to recent studies)
have antioxidant properties which can help protect the body against free radicals.
INGREDIENT: Artichoke tea is processed from terms, roots, flowers of artichoke plant, Liquorice and Natural flavor.
INDICATION: It may be used as a refreshing drink at any time of the day. It helps cooling the livers, relieving the gall, being diuretic, increasing the excretion of the gall, reducing cholesterol and urea.
Note: This product is not drug and it cannot be used instead of the medicament.
DIRECTION FOR USE: 1-2 tea bags, 3 times a day. Just put one tea bag in a cup, add fresh boiling water and leave to infuse for 3-5 minutes before drinking. Add sugar if desired.
EXPIRY:
2 Years from manufacture Date
PACKING:
1 x Pack of 100 Teabags
SHIPPING & Handling:
– We ship by VIETNAM POST to Worldwide
– It takes from 10 to 25 days to arrive.
– We will be able to ship your order within 3 business days
(in most cases within 24 hours)
after the clear payment received .
– Please input the correct shipping address when you make the payment.
WARRANTY & RETURN:
– Buyer will have to pay return shipping cost in case of buying with mistake or change your mind
PAYMENT:
– Only PayPal is Accepted = Buyers can pay credit card through PayPal.
– Item will be shipped immediately on the same day or within next 2 business days of receiving full payment.
IMPORTANT SERVICES:
1. Please send me a message immediately if there are any problems with your purchase.
2. Please do not open case with eBay or please do not leave negative feedback, we will be able to find a way to solve the problem by communicating through messages.
3. Thank you so much for your purchase!
Specification:
100 x 2g ARTICHOKE Tea Bags for Liver Diabetics BEST PRICE – Atiso – Danh trà
| | |
| --- | --- |
| brand | |
| form | |
| tea origin | |
| tea type | |
| size | |
| country/region of manufacture | |
| expiration date | |
| upc | |
Related Products
Added to wishlist
Removed from wishlist
0
Added to wishlist
Removed from wishlist
0